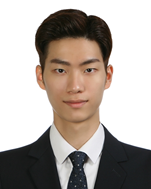 Sanghyuck Na
Master Candidate
Name: Sanghyuck Na(나상혁)
Status: Master. Student, Department of Computer Engineering at Dongguk University
Tel: +82-2-2290-1421
Address: New Engineering building 5116, Dongguk University, 30, Pildong-ro 1-gil, Jung-gu, Seoul, Republic of Korea.
E-mail: shna@dongguk.edu
Research Areas: Machine Learning, Deep Learning
---
Academic Career
2013.02: Dongseoul University, Bachelor of Engineering in Computer Software
2019.02 ~ Present: Dongguk University, Master of Engineering in Computer Engineering and Science
---
Publications
2020
[SCI] Sanghyun Seo, Sanghyuck Na, Juntae Kim, "HMTL: Heterogeneous Modality Transfer Learning for Audio-visual Sentiment Analysis", IEEE Access. July 02, 2020.
2019
Sanghyuck Na, Daeung Kim, Sanghyun Seo, Juntae Kim, "Improvement of Cross-Modal Retrieval Performance for Visual-Semantic Data Through Adversarial Learning", 7th International Conference on Big Data Applications and Services (BIGDAS2019), Jeju Island, South Korea — August 21-24, 2019.
Changhoon Jeong, Sung-Eun Jang, Sanghyuck Na,  Juntae Kim, "Korean Tourist Spot Multi-Modal Dataset for Deep Learning Applications", Data, pp. 4(4).2019.(SCOPUS)
나상혁, 김준태, "Conditional WGAN-GP를 이용한 Few-Shot 이미지 생성", 2019 한국소프트웨어종합학술대회 (KSC 2019), Pyeongchang Phoenix Park Korea — Dec 18-20, 2019.